[Illustration] [Publication]
"Copy 01: The World of Immortality" is the final project that I completed for my BA degree, which I showcased in 2022. Through Speculative Design, I explored how illustration and publication can provoke younger generations (commonly known as "digital natives") to reflect on ethical questions about our existence resulting from the development of self-digitising technology.
As a means of visual communication and narrative, I used a graphic novel format to depict a scenario that explores the extreme future resulting from digital immortality technology. Simultaneously, I focused on people's innermost thoughts and unspoken feelings in the evolving digital age. ︎
[Illustration] [2D Motion]
Marriage Simulator is a project that I completed during my Bachelor's degree studies. Its aim was to explore satirical humor within feminism by using illustrations and moving images to provoke conservative Chinese individuals to reflect on the inequality and objectification of women in marriages.
Through my research into the objectification of women in Chinese marriages, I created three illustrated moving images that represent the three typical stages that modern Chinese women go through in contemporary marriages: the period before marriage, the wedding, and married life. For instance, the concept of "Bride Price" still objectifies women's fertility and other extrinsic values. ︎
June 2022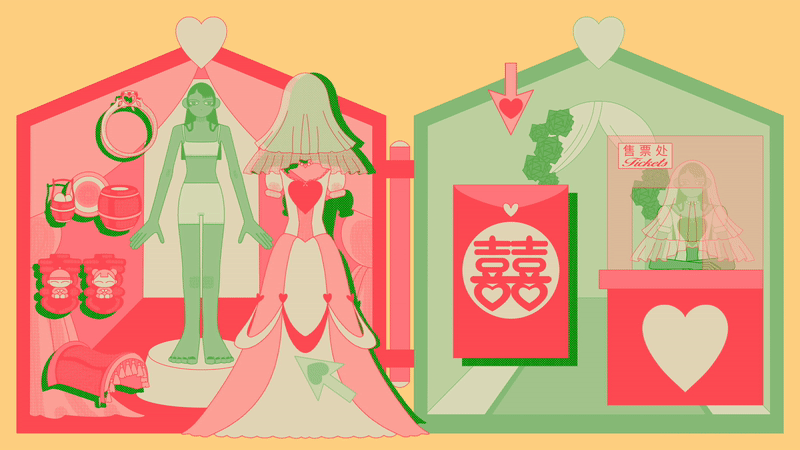 Honesty with Chatbot AI

[Illustration] [Video Editing]


My intention was to explore how AI can bring positive significance to me and others in modern society. During my preliminary research, I was greatly inspired by Ann Scherer's TED Talk on our increased honesty when facing machines. Her research discussed how retired American soldiers, when facing AI chatbot, are more likely to let go of social norms and openly discuss their psychological traumas.

This made me reflect on myself as well. The AI I interact with the most in my daily life are chatbots. I rely on it to discuss various topics that are difficult to bring up with family or friends, or to navigate challenging social situations, such as politely refusing others.

Using my expertise in visual communication design, I then tell the story of the impact of chatbot AI on retired soldiers and myself, emphasising and expressing the unexpected assistance that chatbot AI provides to individuals in terms of their mental well-being. I also speculate that AI will gradually become our friends. ︎


May 2023
[Printmaking] [Publication]
A Publication shows how our human languages link women and nature together by collecting gendered conceptions and sexist terminologies used for identifying both women and nature but actually values neither of them. And it ultimately aims at raising our awareness by criticising or retiring the languages that we use in everyday conversations of the modern days.
︎